Keeping bikes in tip-top condition is our thing. Servicing keeps bikes working well and bikes that work well are much more fun! Making it easy, eliminating hassle is what we do. Do ask if you have any questions about our services or your bike.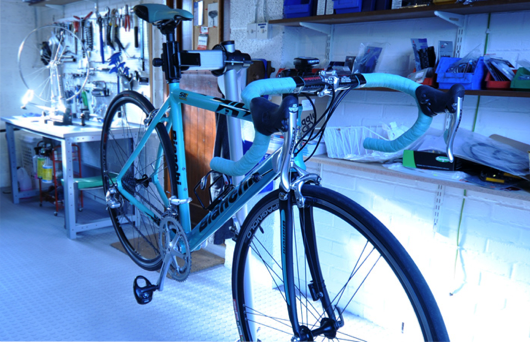 Drivetrain Service: £32.00
A full transmission degrease, cleaning all components before re-lubrication: includes gear operation check and adjustment.
✓
Chain, cassette, chainset, front and rear gear mechanisms degreased, cleaned, checked for wear and lubricated
✓
Gears adjusted for full function
The Bike Check Service: £46.50
All major components and functions are checked & adjusted; 41-points in total including the points below & 36 more:
✓
Brake calipers, brake blocks/pads & cables checked and adjusted
✓
Gears & drivetrain operation checked, adjusted for full functionality
✓
Chain wear checked, chain cleaned and lubricated
✓
Tyre and wheel rims conditions checked
✓
Wheel hubs checked and adjusted as needed
Includes all the work carried out in The Bike Check Service and the following additional procedures:
✓
Chain, cassette, chainset, front and rear gear mechanisms degreased, cleaned, checked for wear and lubricated
✓
All major bearings: Wheel hubs, Bottom Bracket Axle & Headset checked for wear
✓
Bearings above cleaned, greased & adjusted
✓
Gears and brakes adjusted for full function
✓
Full bike clean
The Commuter Special: £74.00
We collect your bike from your place of work or station, we carry out Service Plus attending to any specific needs and then we return your bike ready for your trip home
Ultimate Service: £120.00
A complete overhaul of your bike. Additional to the first two services, the Ultimate service results in a bike that works like new or better!
✓
Full strip down of bike
✓
Full bike clean and alignment check
✓
Hubs and bottom bracket bearings removed, cleaned, greased, & reassembled
✓
Entire transmission removed, degreased & reassembled including new cables
✓
Headset removed, cleaned, inspected, greased and reassembled
✓
Brakes removed and cleaned, blocks checked, reassembled and adjusted including new cables
Repairs to keep you going
Sometimes you need a specific repair to put your bike back in order.
Check your bike in for a repair and we'll attend to the specific problem and give it our 41-point inspection free of charge. We'll estimate the repair job and time needed and put you fully in the picture. If we later discover it's going to cost a bit more we'll tell you that promptly before going ahead.
Book your bike in for a repair
Below are some common repairs and guideline prices. Prices exclude parts unless they're specified here.
Feeling deflated? Punctures repaired (including new tube): £15
Wobbly wheels? Spokes replaced and wheels trued: £15
Steering or pedalling problems? Headset or Bottom Bracket bearings replaced: £25
Gears grinding? Adjust gears, re-index gear shifting: £15
Not spinning along? Hubs serviced: £10 for one, £20 both
Can't stop, won't stop? Brakes adjusted and/or brake pads replaced: £12
Servicing & repair prices exclude parts & consumables unless mentioned in the descriptions. Free Collection & Delivery in local area, modest charges outside local area.
Need a little extra? If you need a rack, mudguards, lights or something else to perfect your set-up all you have to do is ask! We'll be delighted to advise and quote.